Mono ConGO Prepared Meals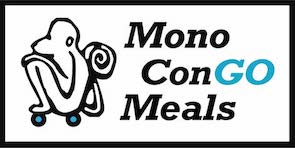 Mono ConGO Meals can help give you a few more meal options each week, so you can focus on other things. If you want to eat healthy but need a bit of a break from the kitchen.
The menu is designed to work over a few weeks with frozen and fresh options. Hearty mains and soups can all be frozen and the salads or most desserts can keep for several days as well.
Order Online & Receive Whatsapp Confirmation
The online link helps you choose your options easier and doesn't require a credit card. The order needs to be confirmed in house first before it is accepted.
Our Whatsapp order line is 8485.5523. Questions are welcome as this is a new and growing service.
We confirm order, payment & delivery times
We are delivering approximately 3 times per week (between 3:00 – 5:00 pm). Pick up arrangements from Pueblo del Rio are available outside of Cafe Mono Congo / Mama Toucans can be made for additional options.
Deliveries are ranging from Hatillo in the north, Platanillo in the east and Playa Ventanas south of Uvita. Costa Verde gate as well.